Australian Superyacht, Marine Export & Commercial Marine Conference Speaker

Martin Redmayne

Chairman & Editor-in-Chief, The Superyacht Group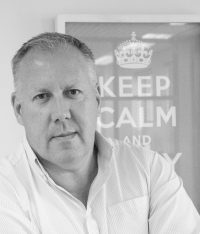 Martin Redmayne will be the MC for ASMEX 2019.
Having graduated back in the early 80s with a love of sailing and not ready for the corporate environment, Martin joined Nazenin III a 90' Palmer Johnson ketch based in Istanbul, where he learned how to maintain teak decks, a bit of top side maintenance, sleep in a 6' bunk and cook for a variety of interesting people. This onboard introduction to the world of superyachts lasted a season, and after a swift return to London, having seriously considered a career as a chef, a strategic interest in the media was fulfilled when a senior position became available at Boat International. Five years later, in 1992, a rash decision was made to fly solo and develop a brand-new magazine. Today, after twenty-five years of developing a portfolio of intelligent and independent media channels, The Superyacht Group has now established itself as the journalistic authority in the market.
During the past 30 years, he has spent time on over 1,500 yachts around the globe, visited over 120 shipyards, been present at all of the market's leading design studios, interviewed hundreds of owners (of which, many of their off the record comments can never be published), dined with most of the market's CEOs and got merry with far too many Captains.
This journey from Seattle to Auckland and everywhere in between has provided a rare insight into the Superyacht market and enabled unrivalled expertise in the industry. Although time is never our friend, he loves writing comments, sharing opinions on stage, tweeting intelligent tweets or posting on Instagram about the crazy, wonderful world of Superyachts. Over the past twenty-five years, in addition to running The Superyacht Group, Martin has acted as a consultant to many of his clients, friends and contacts, offering strategic advice and sharing his inside knowledge on how to get the most out of Superyachting. 
The journey also has provided some highlights, from dancing on stage almost naked in front of 5000 people in aid of charity at the National Marine Party, to interviewing Bill Joy, the owner of Huisman's iconic sailing yacht, Ethereal, and perhaps the most intelligent person Martin has ever met. From a relaxed and candid conversation with the pipe puffing patriarch of the Damen Group, Kommer Damen, to chatting and watching the late great Jon Bannenberg, sketch while he waxed lyrical about bad design and finally to receiving regular ranting emails from Rob Moran explaining how Martin doesn't know what he's talking about (one day these will all be published…). It's been an amazing ride to be part of such an incredible industry and see how the market has evolved, beyond anyone's expectations.
During this time Martin has met every single person who has won a leadership award and has some incredible memories of time spent with what can only be described as legends. Finally, in the words of Martin himself: 'I am one of the luckiest people alive, not only to be able to call what I do work, but to have met so many amazing and interesting people that I now call friends, in so many incredible parts of the world and to have such a wonderful family that have allowed me to do all this for the past 30 years.'