Australian Superyacht, Marine Export & Commercial Marine Conference Speaker

Peter Redford

Managing Director, Fraser Yachts Australia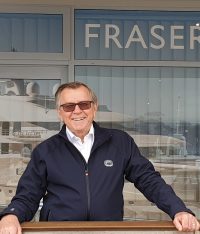 Born in Germany and schooled in Australia,  Peter Redford studied mechanical engineering and proceeded to work for one of Sydney's most reputable engineering consulting firms.  Later his work commitments as a Sales Engineer at Caterpillar extended as far as the middle East where he worked in Saudi Arabia in the position of Head of Sales. Peter worked closely with the international division and assisted in managing sales and communications with all of the company's clients in the region. Having purchased his first ski boat at the age of 16 years Peter's greatest passion has always been boats, both power and sail and with the water. 
Peter Redford epitomises integrity, energy, hard work and creative service.  He is the Managing Director of Fraser Yachts Australia, a great industry leader and mentor to all his staff.  With over 40 years industry experience, Peter has been appointed as the Chair of the NSW Superyacht Association, BIA member and Justice of the Peace.