Australian Superyacht, Marine Export & Commercial Marine Conference Speaker

Ron Kelly

Technical Director, E-Class Outboards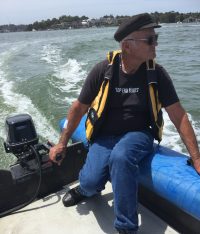 Ron Kelly originally trained as an automotive engineer and then became a boatbuilder with decades of experience. Some of Ron's brands are internationally recognised – South Coast Surf Boats and Burton Surf Skis.
Ron has built and raced speedboats, sailed two Sydney to Hobart Yacht races in his own yacht, was an accredited Surf Lifesaving Australia manufacturer and took up competitive stillwater rowing and scull manufacturing in his later years. 
This man knows boats and how to get the best out of them! 
He has been working on the development of powerful and portable electric outboards for the past 10 years. He is currently developing an electric jet ski.