SANCTUARY COVE INTERNATIONAL BOAT SHOW 2024
23-26 May 2024
---
The Sanctuary Cove International Boat Show (SCIBS) returns for its 35th year in 2024. 
Proudly owned and presented by Mulpha Events, the Sanctuary Cove International Boat Show 2024 is the most glamorous, immersive, unmissable boating lifestyle event in the Southern Hemisphere — from the luxury lifestyle of the superyacht set to the family fun of messing around with everything on, under and around the water. The latest-and-greatest boating tech and equipment, exclusive waterside VIP experiences and over 47,000 visitors, 300+ exhibitors, 740+ boats and 2,500+ marine products make this Australia's biggest celebration of lifestyles that are exotic and aquatic. What will you discover at the greatest show afloat?
SCIBS 2024 will take place at Sanctuary Cove Village and Marina from 23-26 May 2024.
To find out more, visit the SCIBS website.  
---

Launched in 2023 and based on its success, the AIMEX Garden at SCIBS will once again host our members onsite at the show in 2024.  It will be located alongside the new Marina BLVD Hall down by the marina, see map below.
Each morning, we invite you to start your day with complimentary coffee and B&E rolls. In addition to breakfast, a guest speaker will share their insights and knowledge on a range of marine related topics. 
These sessions will provide an excellent opportunity to learn from industry leaders and to connect with peers in a relaxed setting. Later in the day, you can join us for networking drinks.
We would like to thank our partners Aqualuma LED Lighting and Pantaenius Yacht Insurance for supporting the AIMEX Garden for another year.  
Members can use it for meetings, networking, or simply to enjoy a moment of peace amid the hustle and bustle of the event. Don't miss out on the chance to experience the AIMEX Garden. We look forward to welcoming you!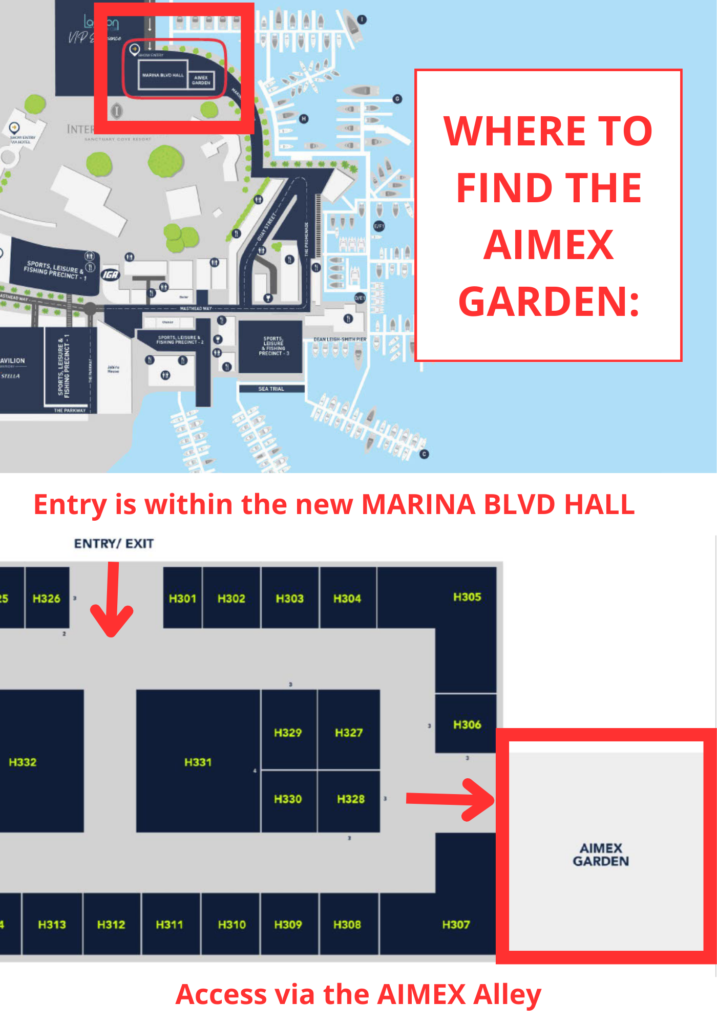 The AIMEX Garden is PROUDLY SUPPORTED BY: